Save
$29
Save
$29
Save
$29
Save
$29
Save
$29
7-free,long-lasting nail polishes
Always cruelty-free & vegan
Why We Love It
6 New 7-Free Long-Lasting Nail Polishes

Limited edition Poppy polish bottle handle in Cream

The Top Coat

Cuticle Serum with Cactus Flower

Clean-Up Brush

Polish Remover Pot

Flat-Edge Clippers

Dual-Grit File

Nail Buffer Bar
"L.A. Girls' Favorite Nail Salon Just Launched an At-Home Manicure Kit" -
7-free,long-lasting nail polishes
Always cruelty-free & vegan
Customer Reviews
Write a Review
Ask a Question
09/18/2020
Christie E.
United States
Ordinarily, I'd say grand
I purchased l the big box of wonderful for myself. Recently my daughter ( after mutual isolating) came to visit and we had a great time painting our nails!! I ordered her the same box with the polishes I would never have the courage to wear. Unfortunately the clear top coat shattered ( thank goodness not the green polish!). The inside box was a mess but salvageable. She cleaned up the mess and let me know what had happened. I contacted Olive and June ; they promptly, positively responded. Her polish will be replaced (yea!!! Hopefully the box too ). At any rate , I have experienced nothing but outstanding customer service from Olive and June. ♥️♥️♥️
09/19/2020
Olive and June
Thank you so much for this amazing review we are s small Team and and they are going to be so thrilled to read this! OLIVE YOU!
09/18/2020
Peter L.
United States
Great Gift
I got this for my wife and she loves it. She says she paints her own nails and it lasts less than 24 hours. She's 5 days in with no nicks or anything. The brush was messed up and Olive & June are sending a replacement with no hassle and throwing in an extra polish! Great customer service!!
09/18/2020
Diana L.
United States
First time User!!
I really love that the nail polish is free from chemicals. I work in a hospital setting so the "long lasting" Didn't work for me as I wash my hands over 10 times a day. But... I manicured my sisters nails and she was going on week 2 with no chips. She works from home. I really bought this for that reason but also for my daughter as she is sensitive to polishes. She has had no issues! So totally worth it. I also did a boo boo. I put the small cleaning brush in the acetone so I can clean up my nails. It was for maybe half a minute and it kinda ruined the brush. It made it a bit hard and it ate at the plastic. Note to everyone. Don't stick in in the one they provide. Will ruin your brush. Other than that I'm super happy with the purchase.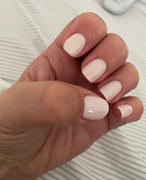 09/17/2020
Keya R.
United States
Pleasantly surprised
I've purchased many brands of polish and didn't expect these to be much different, but loved the colors so purchased The Everything Box. I love it. I'm very hands-on and not gentle about it... dishes, gardening, cleaning... usually my nails are chipping within a day or two. But this polish with the top coat lasts and looks great for a week, even longer. I hated doing my nails before but now have them done all the time. Can't wait for more colors to come out!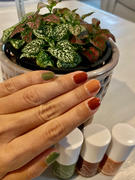 09/17/2020
Jessica H.
United States
So far...
I'm in love with the Everything Box! This company came as a recommendation for a friend and I am so happy I listened to her. The colors were actually what I have been looking for and to be able to use my left hand as easily as my right hand (dominant) is a huge accomplishment!
09/17/2020
Melissa A.
United States
Love it! Finally a good home manicure set!
Love the instructions, love the colors, love the polish!
09/17/2020
Laura C.
United States
09/16/2020
Beth J.
United States
Love my nails
Easy order. Easy to use.
09/16/2020
Danica K.
United States
AA
09/16/2020
Areej A.
United States
Awesome
The colors are so beautiful and so far I haven't had any chipping. I work in a hospital and I'm constantly hand washing and sanitizing. For years I completely stopped wearing nail polish because they almost always chipped the next day and looked unprofessional. This has been such a godsend. I also was having issues with my package and fedex was giving me the runaround but when I reached out to Olive & June it was delivered the next day!