Save
$29
Save
$29
Save
$29
7-free,long-lasting nail polishes
Always cruelty-free & vegan
Why We Love It
Your choice of 6 Long-Lasting, 7-Free Nail Polishes

Limited-edition Poppy polish bottle handle in emerald

The Top Coat

Cuticle Serum with Cactus Flower

Clean-Up Brush

Polish Remover Pot

Flat-Edge Clippers

Dual-Grit File

Nail Buffer Bar
"L.A. Girls' Favorite Nail Salon Just Launched an At-Home Manicure Kit" -
7-free,long-lasting nail polishes
Always cruelty-free & vegan
Customer Reviews
Write a Review
Ask a Question
09/22/2020
Jessi P.
United States
Amazing!
I love this polish. I've never been able to do my right hand nails before and I've never been able to do a manicure on myself that actually looked decent. I'm never going back. The colors are beautiful and the polish stays on for a long time if you follow the directions correctly. LOVE Olive & June.
10/23/2020
Katie S.
United States
Colors galore
Amazing kit- loved the colors and the online tutorials for a perfect at home manicure. My daughter and I live all the color choices. My only critique is that from the time I ordered until I received the product was over 3 weeks. I understand that shipping is unpredictable currently, but that was the only disappointment with this product experience.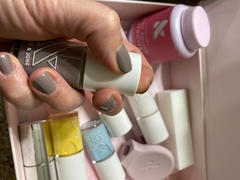 10/23/2020
Amanda B.
United States
I'll never go to another salon
I am super impressed with the quality of the polishes and the kit. My nails look like I went to a nail tech and had gel nails done. The polish has nice coverage and the clear coat is thick and shiny. Plus the additional of the clean up brush and the cuticle oil make everything look polished and professional. I've been doing my nails once a week for a change up and touch up chips and a new clear coat about halfway through the week, which only takes me a few minutes. I absolutely love this and I'm glad I splurged! It was so worth it.
10/23/2020
Dina B.
United States
Everything you need & MORE!
I wish I new how to use everything but overall love that I got everything all in one. The colors are amazing!
10/23/2020
Jennifer W.
United States
It really is great!!
Stopping getting professionally done nails with covid and this kit is perfect. Now I have great nails at home.
10/23/2020
Heather R.
United States
Superior Polish
I love Olive & June. I think the company as a whole is amazing and their polish/tools are some of the best I've ever used. Specifically the top coat bc this is the only top coat that has made my polish last a full week with no chips. I even use it with polishes from other brands and the polish just stays on. It has breathed life into my manicures again and that is a great feeling. 10/10 would recommend. <3
10/23/2020
AIMEE K.
United States
First Manicure in 7 months!
Fantastic. The polish lasted for a week — instructions were able to walk me through a process that was pretty close to a salon experience. Colors are awesome! Highly recommend!
10/22/2020
Marie G.
United States
Love it!
I love nail products, but generally when I paint my nails, everything chips by day 3. NOT with Olive and June!! This polish is great - it stays on, it's easy to apply, and the kit helped me get a really clean manicure, especially with the brush to help clean up any goofs. I really love this kit!!
10/22/2020
Isabel R.
United States
Too good to be true??
Is this product too good to be true? NO IT IS JUST THAT GOOD. I love love my Everything box. I was a little unsure about how I would do but O&J have so many tutorials. I'm on a 10 day no-chip mani! Check out their Instagram for a bunch of resources and guides. (I can't stop looking at my nails!) The shipping took 3 weeks and I'm sure it felt longer because I was so excited to receive my box. I reached out to customer service and they were so kind and helpful. Once the shipping process is worked out I will definitely be ordering more!
10/22/2020
Erin L.
United States
Shockingly good
Kit is easy to use, the poppy is great, and the polish is incredible. I'm on day 7 with very minimal chipping at the tips, so just touched up, applied top coat and am keeping going!