Customer Reviews
Write a Review
Ask a Question
08/09/2020
jessica j.
United States
Worth the hype!
Definitely a product worth the hype! I decided to spring for the Into You Box and I'm glad I did! Colors are fun and long lasting. On day 6 of mani- no chips yet. I immediately noticed the difference in texture of the polish- it's thick! Definitely follow the 3 thin layers recommendation and apply top coat every couple of days. The top coat is great! Really feels like it seals in the color without being tacky! 10 out of 10 review!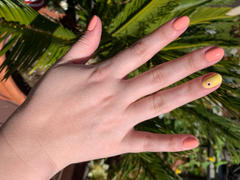 08/09/2020
Emma T.
United States
Gorgeous Colors & Easy Application
I've seen so many ads for Olive & June across various social media, and when I saw the colors included in this box I had to give in and buy it and I'm so glad I did. These are seriously the perfect pastels - especially obsessed with the yellow! The box itself is adorable and comes with everything you need for a perfect manicure. And their styling tips are always on point as well - even before I bought this box I've styled my own home manicures based on suggestions I'd seen in their ads. This first manicure is still going strong with zero chips 5 days later.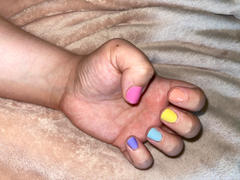 08/09/2020
Kimberly D.
United States
Awesome!
I heard from Olive and June from a friend and I was a little nervous about spending this much on nail polish because it seems like a splurge. I do not regret it at all! The polish was so cute, dried quickly and has not chipped at ALL! I have been washing dishes, cleaning and working in my garden too. Your nails will grow out before you need to replace the polish! I also had a small problem with one of my colors and they quickly replaced it and sent me an extra color to make up for it. Great customer service! I would highly recommend!
08/09/2020
Gail L.
United States
Love the colors!
Great colors! Long lasting polish.
08/08/2020
Karen A.
United States
Love!
Love the kit and the colors!! High quality...but, the cuticle serum appears to be dry?? It doesn't seem as if any product comes out...suggestions?
08/07/2020
Margaret E.
United States
Do-It-Yourself Was Never More Fun!
I'm used to spending two hours in the salon for acrylics and gel. They were long and beautiful and EXPENSIVE! During the past 4 months of being on my own, I managed to get my nails back to natural, ordered Olive&June, and now I'm sporting short beautiful nails. The polish is easy to apply, and I found the instructions to be very clear and easy to follow. It's a winner! Now I need some fall colors.
08/07/2020
Katherine T.
United States
It was a hit
Gave this to my 12 year old daughter for her birthday on a whim. Huge hit! She has already watched a video & loves it! I'm happy it's a clean formula without harmful chemicals. The colors are beautiful & work well together as a set.
08/04/2020
Tresha E.
United States
LOVE IT
Delightful and so much fun! I love access to the tutorials!! Thank you! Lovely kit!
08/04/2020
Nana B.
United States
great colors for Black women
The colors look great against my brown skin! I am so glad that this collaboration with Zeba took place. I really appreciate that these polishes do away with the 7 most toxic compounds typically found in polishes. The resin in this polish is superb. It is pricy, but I am always happy to support a women owned company
08/04/2020
Joy T.
United States
Happy
I'm an immediate fan!!!