Save
$32
Save
$32
Save
$32
Save
$32
"This brand finally figured out how you can give yourself the perfect mani"
"As close as it gets to bringing the nail salon experience to your home"
"This nail kit is the easiest way to get a salon-worthy manicure at home"
Customer Reviews
Write a Review
Ask a Question
11/30/2020
Emily G.
United States
Easy to use & results are great!!
I love this kit! It was super easy to use & my feet FEEL amazing. The softness from the foot scraper & foot serum held for several days before I needed to re-up on the serum.
11/30/2020
Pamela B.
United States
Better than Salon Nails
I bought bought the mani set at the beginning of the pandemic and have been so impressed with Olive & June that I bought the pedi kit as soon as it launched. I used to get mani-pedis 2-3x per month and my overall nail health and aesthetics has actually improved! I'm still not great applying some colors, but the quality of the polishes, system tools, and instruction far surpass what I was getting at salons in SF: less breakage, fewer hangnails, no chips 3-5 days for hands and my 10 day old pedi is still flawless. I highly recommend these kits.
11/30/2020
Stacey B.
United States
Softest Feet Everrrr
I love the tools in this kit from the grater to cubical cream and pusher. So happy I got this, its been a moment since I have wanted to proudly walk around with exposed toes!
11/30/2020
Sarah A.
United States
Your Foot Savior
I had given up on my pedicure since quarantine started. Being an active runner, my feet tend to be in rough shape 95% of the time. The Pedi System finally gave me all the tools I never knew I needed and I once again have (semi) pretty feet. O&J has done it again.
11/26/2020
Hope B.
United States
Pedi set with foot file and polish
I love the set! The foot file is best one I have ever used and is to be used without water! I love it. The polish stays and has strengthened my nails like I have not seen before. Truly my favorite products right now. My only need for improvement is the shipping time. It's slow, don't expect to see what you ordered for at least three weeks.
11/26/2020
Tania M.
United States
WOW, could it be any easier
what a brilliant way to package all you for your pedi. The tools are. High quality and the cuticle softener...it is the best I have ever used. The foot balm/ cream is amazing. Non greasy, soaks right in and leaves my feet feeling so soft . I love the polish ....brilliant formula, lasting and the colors are stunning.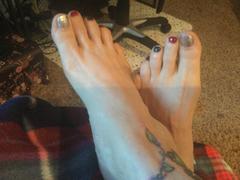 11/26/2020
Emily B.
United States
Love it!
Great system to do pedicures at home. I was already fairly good at doing my own pedicures but this box made the process so much easier and enjoyable.
11/25/2020
Martha S.
United States
Found joy in self-pedicures
I thought I hated giving myself pedicures until now. I enjoyed the process and the results so much that I gave my husband a pedicure the next day. The kit has every tool you need for a salon quality pedicure. Love that the storage box doubles as a foot pedestal.
11/25/2020
Paula R.
United States
Love
I absolutely love the every piece of the pedi set!! The tools included allow you to get a perfect pedi!!
11/25/2020
Ruth R.
United States
Wonderful!
This is an awesome product, Olive and June have outdone themselves with this! I'm looking forward to many uses with these great products.
6 Colors - Pedi
Regular price
$100.00

Sale