Save
$29
Save
$29
Save
$29
Save
$29
Save
$29
7-free,long-lasting nail polishes
Always cruelty-free & vegan
Why We Love It
6 New 7-Free Long-Lasting Nail Polishes

Limited edition Poppy polish bottle handle in Cream

The Top Coat

Cuticle Serum with Cactus Flower

Clean-Up Brush

Polish Remover Pot

Flat-Edge Clippers

Dual-Grit File

Nail Buffer Bar
"L.A. Girls' Favorite Nail Salon Just Launched an At-Home Manicure Kit" -
7-free,long-lasting nail polishes
Always cruelty-free & vegan
Customer Reviews
Write a Review
Ask a Question
09/17/2020
Keya R.
United States
Pleasantly surprised
I've purchased many brands of polish and didn't expect these to be much different, but loved the colors so purchased The Everything Box. I love it. I'm very hands-on and not gentle about it... dishes, gardening, cleaning... usually my nails are chipping within a day or two. But this polish with the top coat lasts and looks great for a week, even longer. I hated doing my nails before but now have them done all the time. Can't wait for more colors to come out!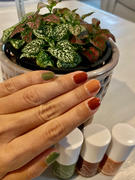 09/17/2020
Jessica H.
United States
So far...
I'm in love with the Everything Box! This company came as a recommendation for a friend and I am so happy I listened to her. The colors were actually what I have been looking for and to be able to use my left hand as easily as my right hand (dominant) is a huge accomplishment!
09/17/2020
Melissa A.
United States
Love it! Finally a good home manicure set!
Love the instructions, love the colors, love the polish!
09/17/2020
Laura C.
United States
09/16/2020
Beth J.
United States
Love my nails
Easy order. Easy to use.
09/16/2020
Danica K.
United States
AA
09/16/2020
Areej A.
United States
Awesome
The colors are so beautiful and so far I haven't had any chipping. I work in a hospital and I'm constantly hand washing and sanitizing. For years I completely stopped wearing nail polish because they almost always chipped the next day and looked unprofessional. This has been such a godsend. I also was having issues with my package and fedex was giving me the runaround but when I reached out to Olive & June it was delivered the next day!
09/16/2020
Stacey G.
United States
Everything You Need In One Box
I love that you get absolutely everything that you need for a great mani in one box - including getting to pick 6 of your favorite polish colors! The polish is fantastic! It goes on smooth and seamless, and The Poppy makes painting with your non-dominant hand so much easier! I love everything about it! ❤️ Results are the best manis I've ever given myself!
09/16/2020
Jessica F.
United States
My New Weekly Pamper Ritual
This year has been bananas, so I wanted to include some self-care in my weekly routine. I used to get manicures a few times a year as a "treat" so, DIYing my own each Sunday made sense. The kit came with all I'd need to do an overall good job on my nails. I specifically like the little brush to fix up my mistakes. I'm happy with the purchase and my new ritual. Here's to the rest of 2020 with sweet nails.
09/16/2020
Sabrina S.
United States
This is What You've Been Waiting For!
I love this kit. The products are high quality, easy to use, and aesthetically pleasing. I'm in no way a nails expert and this kit made giving myself a manicure approachable with beautiful results. Love that I get to support a woman-owned business in the process.