"The best nail polish we've ever tried."
7-free, long-lasting nail polishes
Always cruelty-free & vegan
Why We Love It
Gentle and effective non-acetone formula
Mess-free
Soft foam sponge center
No cotton or wipes needed
Odorless
"The Best Nail Polish We've Ever Tried."
7-free, long-lasting nail polishes
Always cruelty-free & vegan
Ingredients
Ethyl Acetate, Butyl Acetate, Alcohol, Water/Aqua/Eau, Isopropyl Myristate
HOW TO USE IT
Dip fingertip into the center of the pot and twist until polish is completely removed.
Customer Reviews
Write a Review
Ask a Question
09/18/2020
Jillian R.
United States
Magic!
This removes old polish so quickly! Will definitely replace my old remover + cotton ball routine.
JL
09/15/2020
Jamila L.
United States
Gentle on my nails
This remover is excellent. It does not feel harsh on my nails and they don't get brittle and break like after typical removers. I love the convenience of the sponges inside to wipe my nails clean. My only gripe is that I run out so quickly bc these jars are so small.
09/12/2020
Sharon K.
United States
Best Polish EVER!
Loved the polish colors...and the easy application because of the great design of the brush on the applicator. Foolproof to apply. Loved the shine of the top coat...Have found that my mani lasts 2 weeks. (Unbelievable!!! ) Now....Please, please please don't change the formula. It is perfection. The price is the same as my former OPI products but there is absolutely no comparison to the quality......Olive and June Forever!!..... as far as I'm concerned!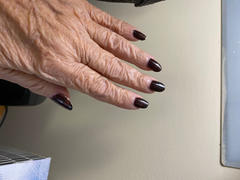 09/15/2020
Olive and June
Amazing! Thank so much for this sweet review! OLIVE YOU!
09/10/2020
Pamela M.
United States
Best Nail Polish Remover
The polish remover works quickly and removes polish easily.
09/08/2020
Abby J.
United States
Best remover!
I was so skeptical of this little remover pot but it blew me out of the water! So easy and way faster than doing it by hand!
09/07/2020
Jennifer G.
United States
Remover Pot
Polish comes off quick and doesn't dry out cuticles!
09/06/2020
Doris C.
United States
Love it!
This is a great addition to my manicure routine, easy, clean and no mess.
09/06/2020
Lindsay J.
United States
Love!
It's the best remover! Love how easily it takes off the polish and doesn't look funky since the sponge is dark!
09/06/2020
Mary A.
United States
Love it! Works great!
So easy to use!
09/04/2020
Jan P.
United States
Polish Remover
This is great polish remover and I ordered a second bottle which arrived empty and the sponge inside dried out. Contacted customer service and a new bottle is on its way. So customer service is very quick and solved the issue for me which I appreciate.