7-free,long-lasting nail polishes
Always cruelty-free & vegan
Why We Love It
Everything you need for an at-home mani with salon-quality results
Gentle and effective non-acetone nail polish remover formula
Non-greasy, fast-absorbing nourishing Cuticle Serum
Flat-edge Nail Clipper
Dual-grit Nail File
Dual-grit Buffer Cube
Clean-up Brush

The Poppy - our universal polish bottle handle

Nail polish color of your choice
High shine protective top coat

A built-in shelfie for your nail selfies (*phone not included)

Sturdy box for easy clean up and storage
"L.A. Girls' Favorite Nail Salon Just Launched an At-Home Manicure Kit" -
7-free,long-lasting nail polishes
Always cruelty-free & vegan
Customer Reviews
Write a Review
Ask a Question
08/12/2020
Christina B.
United States
Perfect Set
So easy to have everything you need in one cute little box! Makes for easy, perfect manis every single time.
08/12/2020
Felice B.
United States
08/12/2020
Jade G.
United States
Nice Color; Chipped in 28 Hours
I loved the color. The handle attachment is going to take some getting used to, but I do think that it helped. Top coat was great, and the nail polish remover was amazing! Cuticle brush was also super helpful. My problem is that this is specifically advertised as chip-resistant, but mine chipped literally within 28 hours of being at home.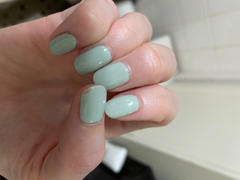 08/12/2020
Olive and June
Hi Jade! Thanks for taking the time to leave a review! Chipping tends to occur due to a missed prep step. We recommend avoiding water during your mani (so no hand washing after buffing, filing, etc), and do 2-3 thin coats with 5-10 minutes of dry time in between each coat! If you can, please join us for a Masterclass (we host three a week!) where we also outline anti-chipping tips :)
08/11/2020
Paula H.
United States
Such an EASY Manicure!
I've been doing the home manicure for a while now and trying to replicate a spa experience at home has been tough. Lots of products, lots of steps, lots of waiting, only to have nails be bumpy and smudge because…time…who has that much time?! This Olive and June kit was so easy to use, very user friendly and the polish goes on GREAT and dries quickly! The step by step instructions are very helpful! I didn't love the color I chose (I got the starter kit with another kit who's colors I LOVE, so I didn't see the option to pick the color for my starter kit), but my nails look great! I can't wait to try it again with another color!
08/10/2020
Joan D.
United States
Love Olive and June!
Love these products! Cuticle serum and top coat are the best. I may never get a mani pedi again! Thanks
08/10/2020
Tina A.
United States
awesome manicure kit!!
Great manicure kit! During this challenging time, this is so needed! Awesome kit
AH
08/10/2020
Amber H.
United States
08/10/2020
Mindy K.
United States
Fun at home mani kit
Love the top coat!
08/10/2020
Patsy N.
United States
Positive Review
My first DIY manicure, so somewhat frustrating. Overall, good.
08/10/2020
Nina R.
United States
Improved my home manicures tenfold!
I was skeptical, but the universal brush head attachment really has transformed and improved my home manicures. I also love the top coat and buffer. Great investment!