Save
$29
Save
$29
Save
$29
Save
$29
Customer Reviews
Write a Review
Ask a Question
09/20/2020
Jennifer T.
United States
Great Customer Service!
The quality of the items are great and useful. Definitely for beginners and those who either love getting their mani and pedi done at a salon and also those who love doing their own nails at home. I love my Oliva and June kit. It is worth the investment. Make sure to cap each bottle tight and take your time on it. Practice = Perfect. Thanks O & J.
09/20/2020
Gianna A.
United States
Great value!
The colors are great and last longer than other nail polishes I have. The poppy handle makes for a steady and smooth application. Love this kit!
09/20/2020
janet c.
United States
Fantastic Polish
I have never been able to down a decent manicure until now. This actually looks like I had a professional do my nails.
09/19/2020
Darlene K.
United States
Great product and customer service!
Great product! Not to mention the customer service they responded quickly and was happy to help!!
09/18/2020
Kimie V.
United States
Thoughtful
From the amazing products to the thought out and beautifully executed packaging you really feel as though you are about to get pampered.
09/18/2020
Brie A.
United States
Love this set.
I purchased my first mani set from Olive and June; I couldn't he happier with my purchase. Everything is high quality and the polish is the first I've used that doesn't chip after a week. Very happy!
09/18/2020
Jessica J.
United States
Absolutely in Love!!!
I was very excited to get my Nailfie Box! The packaging was awesome! It was special and made me so excited to try the products. I am in love the colors and picked a fun combo for my first run. What really has impressed me is how the polish went on and how well it has withstood cooking and cleaning! No chips and it is shiny and beautiful! I am in love!!!!
09/17/2020
Keya
United States
Pleasantly surprised
I've purchased many brands of polish and didn't expect these to be much different, but loved the colors so purchased The Everything Box. I love it. I'm very hands-on and not gentle about it... dishes, gardening, cleaning... usually my nails are chipping within a day or two. But this polish with the top coat lasts and looks great for at least a week or longer. I hated doing my nails before but now have them done all the time. Can't wait for more colors to come out!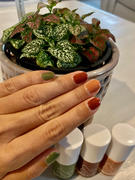 09/17/2020
CLAUDIA T.
United States
Worth it!!
The best manicure I've ever given myself. Polish is specifically formulated and the brush is specifically shaped for ease of application
09/17/2020
Maria W.
United States
Love all of it, except the bag breaks
I absolutely love the colors, and they stay on for such a long time (three days versus my usual half a day). However, the clasp on the bag keeps coming off whenever I try to close it. I would give 4 1/2 stars if possible.