Save
$29
Save
$29
Save
$29
Save
$29
"This brand finally figured out how you can give yourself the perfect mani"
"As close as it gets to bringing the nail salon experience to your home"
"This nail kit is the easiest way to get a salon-worthy manicure at home"
Customer Reviews
Write a Review
Ask a Question
12/03/2020
Colleen W.
United States
High quality!
This is the perfect mani kit. Even the mail clipper is high quality. I didn't think I needed all new supplies until I did my first mani with the olive and June set. Definitely a good gift for the girl who's always got the good nails!
12/02/2020
Yolanda W.
United States
Mani system
I really liked the system and how it was all packed and especially the tutorial! Thank you
12/02/2020
Krista G.
United States
Great gift
I purchased this as a gift for my godmother. I love Olive & June and she's excited to try it!
12/02/2020
Melissa C.
United States
Excellent products!
I am huge nail polish junkie and love doing my nails! This is an excellent product! I am in love!!!
11/30/2020
Eve L.
United States
Gift purpose
I purchased these as gifts and have not used them myself. Consequently I cannot give you feedback.
11/29/2020
Shannon K.
United States
Best Mani Set Ever!
This is the best mani set I have ever used! The poppy makes it so easy to paint my left hand and the polish is amazing. The polish goes on super smooth. I've had my polish on for over a week and it still looks brand new! No chips, scratches, blemishes, anything! Definitely salon quality. Can't wait to keep trying new colors!
11/28/2020
Hannah B.
United States
UNEXPECTED!!
I was super hesitant when i made this purchase because first of all i had clicked on an ad ONE time and then it constantly showed up on my page every day after that basically taunting me into ordering but the reason i ordered was because i was just really in need of a good nail polish brand that will dry efficiently since i work with my hands all day and can't stand having to be so careful... then the Winter Box was released..and i was IN LOVE with the colors. Plus they were running a good deal and even though $72 seemed like a ton of money to be spending on some nail polish, I AM HERE TO SAY I WILL PROBABLY NOT GO BACK TO ANY OTHER BRAND. I did the Create your own set, which came with 6 polishes, clear coat, and all the nail accessories and i immediately fell in love after just one day of having the nail polish on! It didn't ONCE dent!! It literally felt like the shellac mani you get at the salon but in my opinion so much better because i can do them myself and not have to worry about someone creating a bloody mess from clipping my cuticles and pulling hang nails out! I will most likely never go to the nail salon again since i enjoy taking time to do my nails myself anyways, but now i can work on my business within the hour after painting and not have to worry about them getting messed up. It honestly blew my mind! I've already made a second purchase from their Black Friday sale and I'm so excited to receive more colors. I will definitely be on the look out for future sets/colors. Another plus- the packaging was sooo adorable and made me even more excited about my purchase!! All in all this is a great brand, the colors are exactly like the photos, and the quality is perfection. I have been so used to nail polish never drying fully, or bubbling after it dooes "dry", or just plain denting anytime i do anything i would feel completely useless for an entire day when i painted my nails before, but now that i got this brand it is just game changer! THANK YOU SO MUCH for your amazing product and i will definitely be ordering more if not ALL of your colors!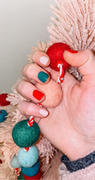 11/27/2020
Nancy S. Pitts
United States
Multiple reviews
FABULOUS! This product is a gift. I bought your product first for myself. I'm a NOW permanent customer. I've bought this order for a friend and they will use the product for the first time this weekend. I wrote a review to you after purchasing this order. My manicure has lasted after 2plus weeks. Great product! I am NOW getting ready to place another order as a gift. This is a terrific product and presentation options. Keep up the good work. Thank you- Nancy Pitts
11/25/2020
Anne T.
United States
So easy to use
The consistency of this polish makes it so easy to apply. The wide fan brush helps to get it done in just a few strokes. With the top coat, it shines like the top of the Chrysler building and is durable.
11/25/2020
Caitlyn F.
United States
I wish I knew about this sooner!
I have tried store bought nail polishes with all sorts of base and top coat options to make my "manicure" last the longest. Then I tried a dip set that worked, but didn't look as great as I had hoped.  AND THEN I FOUND THIS!  It was so easy to use, and worth taking all the steps! I did my nails last week and it's Wednesday and I've taken 2 showers, washed my hands MANY times (thanks covid) AND STILL NO CHIPS. It looks so great! The hardest part was picking colors based on a photo, but I'm pleased with the colors I have! Love love love this product! 
6 Colors - Mani
Regular price
$80.00

Sale