Save
$29
Save
$29
Save
$29
7-free,long-lasting nail polishes
Always cruelty-free & vegan
Why We Love It
Your choice of 6 Long-Lasting, 7-Free Nail Polishes

Limited-edition Poppy polish bottle handle in emerald

The Top Coat

Cuticle Serum with Cactus Flower

Clean-Up Brush

Polish Remover Pot

Flat-Edge Clippers

Dual-Grit File

Nail Buffer Bar
"L.A. Girls' Favorite Nail Salon Just Launched an At-Home Manicure Kit" -
7-free,long-lasting nail polishes
Always cruelty-free & vegan
Customer Reviews
Write a Review
Ask a Question
09/22/2020
Jessi P.
United States
Amazing!
I love this polish. I've never been able to do my right hand nails before and I've never been able to do a manicure on myself that actually looked decent. I'm never going back. The colors are beautiful and the polish stays on for a long time if you follow the directions correctly. LOVE Olive & June.
10/21/2020
Jocelyn C.
United States
Awesome
This is the best polish I've ever bought. I have never been so happy painting my nails. I can't wait to buy more, I want all the colors!
10/21/2020
Chardae J.
United States
Obsessed
I will never get my nails done at a salon again. I was honestly beginning to dread having to get my nails done because I hate sitting there. Pedicure? No problem. But sitting in that chair forever is uncomfortable for a manicure. I like being comfortable and this kit supplies you with EVERYTHING! Thank you Olive & June!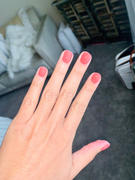 10/21/2020
Jennifer S.
United States
Perfect gift for a dear friend!
I love my own Everything Box so much that when a dear friend was promoted at work, I sent her one as a congratulatory gift! She loves it! The Poppy makes all the difference and the classes/tips that O&J offer just make the whole package a luxurious experience! Highly recommend!
10/20/2020
Regina P.
United States
Awesome
Awesome mani every time
10/20/2020
Andrea O.
United States
Great Item/Shipping is Awful
Love everything about the everything box except for the shipping. I have ordered 3 of these, and one I sent to my BFF as a gift still has yet to arrive and shipping status hasn't changed in over a week and has been nearly a month since I ordered. Contacted O&J and they just said—oh, we're sure it's fine. Have seen multiple people complain about shipping, and I thought they were overreacting, but they're not. There was a recent warehouse switch, but shipping was bad before it and has been even worse after. Trying to get a status of the order is impossible.
10/20/2020
Elizabeth C.
United States
Love love love
Solid quality, perfect brush, excellent tools! I'm in love. I have shorter nails and have been known to bite so having a polish that doesn't chip straight away, and being proud of how my nails look, makes me love it even more!
10/19/2020
Felicia F.
United States
Nailtastic
This nail polish is amazing. I've been looking for a natural nail polish for awhile and this is hands down the best. The polish applies so easy and smooth and the poppy makes painting my with my dominant hand seamless. The everything box literally comes with everything you need.
10/18/2020
beth j.
United States
LVE!
So much fun! And so easy!
10/17/2020
Alissa C.
United States
AMAZING!!!
I loved getting my studio box! The packaging was so fun and chic and on brand and polished ;) I even sent my an unboxing video to my boyfriend and friends! Amazing product all around and I'm so excited that I finally become a customer after following the brand for some time. Been watching all the IG lives as well!! Thank you for creating such a great product!!