Save
$19
Save
$19
Save
$19
Save
$19
7-free,long-lasting nail polishes
Always cruelty-free & vegan
Why We Love It
Your choice of 7-Free Long-Lasting Nail Polishes

Limited edition Poppy polish bottle handle in Cream

The Top Coat

Cuticle Serum with Cactus Flower

Clean-Up Brush

Polish Remover Pot

Flat-Edge Clippers

Dual-Grit File

Nail Buffer Bar
"L.A. Girls' Favorite Nail Salon Just Launched an At-Home Manicure Kit" -
7-free,long-lasting nail polishes
Always cruelty-free & vegan
Customer Reviews
Write a Review
Ask a Question
07/06/2020
Sheila H.
United States
Excellent polish!
Very good polish set. My nails never looked so good!
07/03/2020
Meg L.
United States
Great product!
This box is super helpful! For the first time, my self-manicure looks like an adult did it and not a clumsy four-year-old.
09/20/2020
Lynette B.
United States
No More Gel or Dip
This is no joke! This polish is amazing! The polish builds, it doesn't just cover your nails. It created layers that bond to each other. I have had my polish in for a week now with no chipping. I did exactly what the instructions say to do and the prep works! As long as your nail bed is completely clean, the polish bonds to your nail. You can tell after the first coat how it works. I love it and won't ever go back to gel, powder, or regular polish.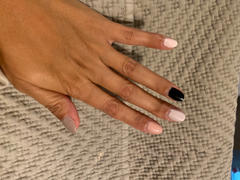 09/20/2020
Ariella H.
United States
Love everything they make
Such great tools. I was using my own tools with their polish before, but now I feel complete.
09/19/2020
Anne E.
United States
Where has this been ALL my life?!
This box had EVERYTHING I could possibly need! I'm terrible at polishing my nails, but all of these tools, especially the Poppy made it so easy!
09/18/2020
Lisa S.
United States
Best Quarantine Decision Yet
I am over the moon with my purchase from Olive and June. All products are made with such attention to detail and exceeded my expectations!! I've never been good at painting my own nails, but I think after another attempt or two I'll look like a pro!! Now to add to my color collection!!
09/18/2020
Brienne S.
United States
09/18/2020
Maureen S.
United States
Best At Home Manicure
The Studio Box is the reason I will recommend OandJ to all my gal pals who do their own manicure. Perfect kit with everything you need at your fingertips. The cuticle cream is, hands down, the best product ever! And, the polish remover is effortless!
09/18/2020
Debbie A.
United States
Love the product, but no way of gift messaging!
I'm a repeat customer of Olive & June. I love the product and it's my new go-to birthday gift. The problem is that there isn't a gift messaging functionality for the recipient to know who the package is from! Therefore, I have to track the shipment to let the recipient know when it's coming & that it's from me, which completely blows the surprise. I've been told this functionality is coming for the holidays, but it seems like a simple fix that could have been done much sooner. Most online shopping experiences offer this functionality!
09/18/2020
Olive and June
Hi Debbie! Trust us, we hear you! It's something we'll have very soon!
09/18/2020
Linda S.
United States
Still haven't received!
Ordered on 9/4/20 today is 9/18/20, still hasn't arrived. Wrote the company, no response.
09/18/2020
Olive and June
Hi Linda! It looks like you wrote last night and we responded today! Let us know if you have any other questions!