Customer Reviews
Write a Review
Ask a Question
08/12/2020
Kristen F.
United States
This really IS the BEST at home manicure kit.
The box is beautiful, the polish stays on (sometimes over a week), the manicure looks professional and I don't even have to leave my house. I love the colors and I plan to get more because I am never going back to a nail salon. Everything is thought out, the packaging is just perfect (simple yet sophisticated) and the quality is more than I expected. And I LOVE the videos with helpful tips and tricks. As someone who went to get manicures every other week before the pandemic, this box is life changing. Thank you.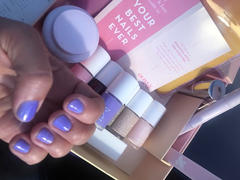 08/11/2020
Alexis C.
United States
Cleaning pot
I was so excited to get this kit!! Everything is so amazing I absolutely love the cleaning pot it works great however I keep getting the black fuzzy stuff from the sponge on my nails every time I dip my fingers in the pot. That's the only downside to the kit.
08/12/2020
Olive and June
Hi Alexis! It helps to gently swirl your Clean Up Brush and nails in the pot versus dunking in and out quickly, as this can wear on the sponge! Let us know if that helps :)
08/11/2020
Anne M.
United States
Great products!
I love the products. I still get a chip here and there, but my nails are short and don't grow much. The products seem of high quality.
08/11/2020
Sarah A.
United States
Never Thought I'd Enjoy Doing My Nails
One word: AMAZING. I've always enjoyed having my nails painted but could never justify spending the money on it at salons and was hopeless when it came to DIY. I would get so frustrated taking the time to do them and it either looking atrocious or chipping within a day. One mess up would lead to me throwing away my hour (or more) of painting and taking the whole manicure off. The Everything Box was a GAME CHANGER by providing me with all the tools I didn't know I needed for a successful at-home mani. I am now on day 8 of my first DIY mani that I'm actually proud of and have only endured one chip (which was a breeze to fix - hello remover pot, I love you) and cannot wait to try out my remaining five colors!
08/11/2020
Anne J.
United States
Happy!
I'm very happy with my Everything Box. The polish is wonderful! It really holds up through my daily activities. I love that everything I need is packaged so conveniently. It makes spending that time doing my nails a treat. I also like the access to tutorials if you have questions. Wonderful product!
08/11/2020
Avery W.
United States
As expected
If you want a great manicure set, that's what you'll get. I now have 6 great pinks, and the tools I need to make and keep my nails looking neat and put together. Every expectation I had was met. I would recommend this to a friend.
08/10/2020
Barbara L.
United States
Good. Choosing colors is difficult online
08/10/2020
Alixandra B.
United States
Amazing box and nailpolishes
I love painting my nails and had been using stickers/stick ons for the longest time. I was so excited to receive this box which had everything I could need in it. I also love the nail polishes. They have last me 6 days without any major problems, and I think they would last a full week if I reapplied the clear top coat. You won't regret purchasing this no matter what your skill level!
08/10/2020
Britney H.
United States
Game changer
I bought this kit for my mom and I to use together - neither of us are very experienced with nail care, but it looked like a great starter kit. We had so much fun, it's very beginner friendly and I love all the support that's available on the website! Also, as a public health worker, I feel confident in the ingredients. All around great product.